Buy a Petersen Concrete Waterer and your worries are over!
The Durability of a Petersen Livestock Waterer does not rely solely on the 3/8" welded rebar cages and the 5000 P.S.I, strength concrete. Petersen's air-entrained concrete is designed for expansion and contraction during temperature changes to eliminate cracking and deterioration. Our five-year warranty insures you that once you own a Petersen Concrete Waterer, your worries are over!
Deluxe Hinged Hood
Insulated, Hands-Free access year-round
Epoxy Coated
The entire tank is coated inside and out for easier cleaning, maintenance, and protection
Large 3" Drains
Quick-flush drains insure total cleanout through the drain
Large Access Doors
Heavy Duty Insulated plastic doors, allows for easy installation and service
Extruded Polystyrene Insulation up to 2"
Permanently bonded to concrete, has a much higher R value than expanded foam
Heat Pit
(Available) 18" to 36" diameter, 4' to 12', Deep depending on region, insulate the top 24", protects riser pipe
Top Adjustable Thermostats and Heaters
Grounded, C.S.A. Approved, Encaloy Sheath, Immersion type, 120 Volt, with just the right wattage for energy efficiency, 220 Volt Option
Smooth, Rounded Edges
Eliminates injury to animals
All Brass Valves
For fast reliable water recovery, meets grade A dairy requirements
Reinforced Concrete
5,000 P.S.I. rebar reinforced, air-entrained, and painted black, for solar heat on sunny days
Air-tight Seal
Roof cement or other, no bolts needed

Concrete Pad
(Available) Eliminates play, keeps waterer clean
Wiring Diagram (Instructions Below)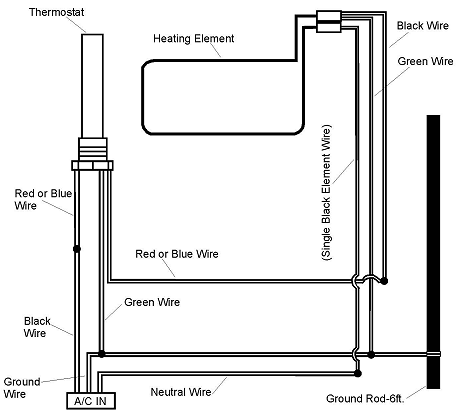 HELPFUL INSTRUCTIONS ON INSTALLING & MAINTENANCE
OF PETERSEN LIVESTOCK WATERERS
THERMOSTAT: Is preset at the factory @ approx. 46 to 48 degrees F. Adjustable thermostats with setscrew on top can be turned up by turning the setscrew counter-clockwise and vise versa. 1/4 turn is 15 degrees (approx.).

HEATING ELEMENT: Your local electrical code must be followed. The diagram above will be helpful, to a qualified person, to make the initial hookup (Proper grounding is a must). The wiring should be routed away from heating elements.

AUXILIARY HEATER: If recommended, installed below ground level or inside
waterer to insure against pipe line freeze-up in adverse weather conditions. This is
especially necessary in situations where the heat pit beneath the waterer is not enough
to allow sufficient ground heat to keep the line from freezing. NOTE: Size of heat pit may
range from 12"-36" in diameter depending on geographical region.

KEEPING ELEMENTS CLEAN: Each season before reconnecting the elements, make sure the electricity is turned off. With the power turned off, remove water deposit buildup with steel wool or a wire brush. Keeping the heater and thermostat clean on an annual basis will help to maintain efficient heat and will greatly extend the life of the element.

SECURING WATERER TO PAD: It is recommended that the waterer be placed on a concrete pad. Before setting the waterer in place, use a generous amount of roofing tar or equal, on bottom edge of unit. When set in place, this will insure an airtight seal between the waterer and pad, helping to keep the waterer in position.

IMPORTANT OPTIONAL FEATURES AVAILABLE: Other products are available from manufacturer which will make installation and maintenance easier. These include Auxiliary Pipe Heaters, 18" Dia. Dual Wall Earth Tube (Heat Pit), and QuickConnect Water Hoses. These items may be purchased from your dealer or Petersen Mfg.
To print the Wiring Diagram you will need Adobe Acrobat Reader.
Wiring Diagram
Order Online @ www.petersenwaterers.com
Don't Settle for less than Petersen Quality!
We weren't born yesterday, and neither were you,. Imitation waterers cost less to purchase, but cost more to service and operate and will not last as long. Compare before buying and you will see that Petersen has the best built, most reliable livestock waterers on the market today.
Get the Original Concrete Waterer, Buy a Petersen!
Petersen Mfg. Co. Inc., Setting the Standard in Quality and Durability Since 1913.